WEEKLY THREAT AND ALERT ROUNDUP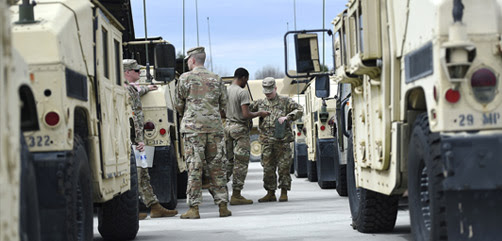 Military Response Widens as Pandemic Rages
March 28, 2020
3/21 – NY Center (ZNY) has gone ATC Zero. Ground stop for all departures at NYC area airports -JFK, LGA, EWR, TEB & ISP after employee tests positive for COVID-19.
3/22 – Governors of Ohio and Louisiana issue 'Stay at Home' orders due to spread of COVID-19. Action includes closure of all non-essential businesses.
3/22 – POTUS: Multiple federal medical stations w/ thousands of beds being deployed to NY, CA & WA. Army Corps of Engineers to construct alt care sites in NY.
3/22 – Title 32 Nat'l Guard activation approved by POTUS for NY, CA & WA. See your email for more information.
3/22 – POTUS declares major disaster exists in CA, orders federal assistance to supplement state, tribal and local recovery efforts in the areas affected by COVID-19.
3/23 – FL Gov. DeSantis to sign executive order requiring mandatory 14-day self-isolation for anyone traveling to FL from airports in NY and NJ. AlertsUSA Monitoring..
3/24 – India's prime minister decrees lockdown of entire nation of 1.3 billion for 21 days to stop the spread of the COVID-19 coronavirus.
3/24 – US Army: 531st Hospital (Fort Campbell, KY), 627th Hospital (Fort Carson, CO) & 9th Hospital (Fort Hood, TX) to deploy to NY & WA state to battle COVID-19.
3/25 – POTUS approves federal disaster declarations for Florida and Texas due to impact of COVID-19 coronavirus, opening door for expanded assistance by FEMA.
3/25 – SecDef issues STOP MOVEMENT order halting all travel & movement abroad for up to 60 days for all US troops, civilian pers & family members due to COVID-19.
3/25 – CO Gov Polis issues emergency Stay at Home order starting 3/26 @ 6:00AM thru 4/11 to minimize spread of COVID-19. Critical businesses exempt.
3/26 – RI Gov: 14-day self quarantine for anyone who has traveled to NY in last 14 days forward. Natl Guard & State Police to inform visitors & collect contact info.
3/27 – POTUS orders select reserve and individual ready reserve units of the armed forces to active duty. More info via email
What You Need To Know
On 15 occasions this week AlertsUSA subscribers were notified via SMS messages to their mobile devices regarding safety and security matters. 13 these alerts dealt with the worsening domestic and international public health crisis caused by the COVID-19 coronavirus.
STAY AY HOME ORDERS
Beginning last Sunday, AlertsUSA subscribers were notified of new orders issued by the governors of Ohio and Louisiana for their residents to 'Stay at Home' in order to minimize human to human transmission of the COVID-19 coronavirus. With the addition of Colorado and North Carolina later in the week, this brings to 26 the number of states officially urging all but essential workers to stay at home and practice social distancing.
Also this week, President Trump signed major disaster declarations for CA, FL, TX, NJ, MD, SC, PR and others, formally opening the door for increased federal assistance to supplement state, local, and tribal recovery efforts in the areas affected by the coronavirus.
DON'T COME HERE
On Tuesday,  Florida Governor DeSantis' intent to sign an executive order requiring mandatory 14-day self-isolation for anyone traveling to Florida whose point of departure originated in an area with substantial community spread of the coronavirus, to include the New York Tri-State Area. This executive order specifically spells out that Florida is experiencing an increase in individuals fleeing from states where "shelter-in-place" orders are being implemented.
Later in the week, Governor DeSantis ordered the establishment of checkpoints along Florida's major roadways in order to identify and inform individuals driving in from the New York Tri-State Area, as well Louisiana, of the mandatory requirement to self-quarantine for two weeks. Similar action was taken by the governor of Rhode Island, who called on the National Guard and State police to issue these notices at all major travel hubs as well as the State's roadways.
MILITARY RESPONSE
Also on Tuesday, Army Secretary Ryan McCarthy issued deployment orders to three Army hospital centers. The orders affect the 531st Hospital from Fort Campbell, Kentucky; the 627th Hospital from Fort Carson, Colorado; and the 9th Hospital from Fort Hood, Texas, which will deploy to New York and Washington state. All of these hospital units are active duty,
On Wednesday the Department of Defense had enacted a 60-day stop movement order for all uniformed and civilian personnel and their sponsored family members overseas. Here again, the measure is taken to aid in further prevention of the spread of COVID-19 coronavirus Disease 2019 (COVID-19), to protect U.S. personnel and preserve operational readiness.
Quoting from the DoD media release on the order:
"Building upon previously enacted movement restrictions governing foreign travel, permanent change of station moves, temporary duty and personal leave, this stop movement order will also impact exercises, deployments, redeployments and other global force management activities. Approximately 90,000 Service Members slated to deploy or redeploy over the next 60 days will likely be impacted by this most recent order."
On Friday, subscribers were also notified President Trump had ordered select reserve and individual ready reserve units of the armed forces to active duty. The Executive Order gives the Secretary of Defense, and the Secretary of Homeland Security with respect to the Coast Guard when it is not operating as a service in the Navy, authorization to order to active duty not to exceed 24 consecutive months, such units, and individual members of the Ready Reserve as they consider necessary.
As of Friday morning, there are more than 12,300 Air and Army National Guard professionals are supporting the COVID-19 crisis response at the direction of their governors.
In addition, 11 states and two territories have approved use of Dual-Status Commanders, giving them the authority to command active and reserve component troops under control of a state's governor.
Governors across all 50 states, Puerto Rico, Guam, the U.S. Virgin Islands and Washington D.C. have each mobilized components of their Army and Air National Guard to assist in their state's response to the COVID-19 pandemic.
The U.S. military has activated its "defense support of civil authorities" apparatus, establishing liaisons in all 50 states, activating units and command posts, and moving forces to provide medical, transportation, logistics, and communications support in New York and Washington states.
GM HIT WITH DPA HAMMER
And on Friday, President Trump issued a Presidential Memorandum directing the Secretary of Health and Human Services to use any and all authority available under the Defense Production Act to require General Motors to accept, perform, and prioritize federal contracts for respiratory ventilators.
Quoting from the President's statement on the memorandum:
"Our negotiations with GM regarding its ability to supply ventilators have been productive, but our fight against the virus is too urgent to allow the give-and-take of the contracting process to continue to run its normal course. GM was wasting time. Today's action will help ensure the quick production of ventilators that will save American lives."
Earlier Friday, President Trump expressed on Twitter that he was losing his patience with GM.
"General Motors MUST immediately open their stupidly abandoned Lordstown plant in Ohio, or some other plant, and START MAKING VENTILATORS, NOW!!!!!! FORD, GET GOING ON VENTILATORS, FAST!!!!!! "
---
OFFICIAL CASE NUMBERS
World Health Organization
Centers for Disease Control (U.S.)
Johns Hopkins CSSE (Interactive map updated multiple times daily)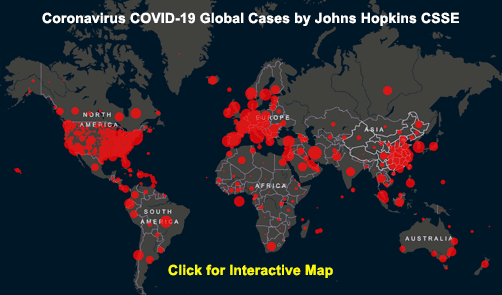 WHO RISK OF SPREAD & IMPACT ASSESSMENT
China Very High
Regional Level Very High
Global Level Very High
PANDEMIC PREPAREDNESS RESOURCES
Official Coronavirus Information Pages:
Centers for Disease Control and Prevention
Food and Drug Administration
Public Health Agency of Canada
Infection Prevention and Control Canada
World Health Organization
Official Pandemic Preparedness Guidance:
Centers for Disease Control and Prevention
Department of Homeland Security / Ready.Gov
World Health Organization
Assorted Resources
(While some of the resources below were prepared for pandemic influenza, the broader guidance contain therein is directly applicable to the current coronavirus crisis).
Home Care for Patients w/ Suspected Coronavirus Infection
Community Mitigation Guidelines to Prevent Pandemic Influenza
Fundamentals of Emergency Planning for Schools
Healthcare Systems Preparedness for COVID-19
Pub Health Guidance for Community-Level Preparedness & Response (SARS)
Business Pandemic Influenza Planning Checklist
Faith-based & Community Org. Pandemic Influenza Preparedness Checklist
WHO Checklist for Influenza Pandemic Preparedness Planning
Get Your Workplace Ready for Pandemic Flu
Dept of Defense Coronavirus Response Page
DHS Supplemental Instructions For Inbound Flights
---
---
AlertsUSA continues to monitor the domestic and international threat environment around the clock and will immediately notify service subscribers, via SMS messages to their mobile devices, of new alerts, warnings and advisories or any developments which signal a change the overall threat picture for American citizens as events warrant.
---
OTHER SMS ALERTS FROM THIS WEEK
NOT DETAILED IN THIS NEWSLETTER ISSUE
3/24 – M7.8 earthquake east of the Kuril Islands, Russia. Based on preliminary parameters, hazardous tsunami waves possible for coasts within 1000 km of epicenter.
3/24 – Tsunami watch issued for Hawaii flwg M7.5 EQ (updated) east of the Kuril Islands. More info via email.
* Threat Info Direct to Your Mobile Device
* Get Away Early, Give Your Family Extra Safety.
* In Wide Use By Gov, 1st Responders, Travelers.
* 24/7/365 Monitoring. No Hype. Just the Bad Stuff.
* Issued Hours and Days before the MSM.
* On your Cell Phone, Tablet or Email.
* We Give The Clear Truth, Unlike the MSM.
* 18 Years in Operation!
We are NOT part of the government.
In fact, they are our customers!
---
March 28, 2020
China Wants to Rule the Waves – Here's How the U.S. Can Stop It
What are the key decisions coming in terms of the size of the U.S. fleet, its mixes of capability and readiness? How will those decisions be influenced by the rise of a true peer competitor over the coming decades?
In War Against Coronavirus: Is China Foe—or Friend?
Can the US and China be ruthless rivals and intense partners at the same time? Holding two seemingly contradictory ideas in our head simultaneously will be difficult. But success in defeating this demon will require nothing less.
Muslim Extremists Exploit Coronavirus to Promote Terrorism,
Hate; and Other Muslims that Need the World's Help
As scientists and other "infidels" around the world, including Israel, are working around the clock to find a vaccine for the virus, the Muslim Brotherhood organization and some of its allies are issuing fatwas (Islamic religious opinions) that expose dangerous goals, a dangerous ideology, and a disregard for human life.
Pandemics and the Future of Military Training
In an attempt to curb the coronavirus' spread, the Pentagon has shuttered recruitment centers, restricted travel, and canceled or significantly scaled back training events, from drills to large-scale exercises, like Exercise Defender- Europe 2020. This has led some to question what may be the long-term implications of the crisis on future military readiness. Indeed, as training and military professionalism are increasingly highlighted as key factors in overall battlefield effectiveness, how can the military maintain its training regime in the midst of a global pandemic?
---
USNI Fleet and Marine Tracker
March 28, 2020
These are the approximate positions of the U.S. Navy's deployed carrier strike groups and amphibious ready groups throughout the world as of March 23, 2020 based on Navy and public data provided by the U.S. Naval Institute. In cases where a CSG or ARG is conducting disaggregated operations, the chart reflects the location of the capital ship.
---
World News Roundup
Other Developments We Are Following
AMERICAS
American Woman Rescued in Secretive Military Op
Johns Hopkins: US was more prepared for pandemic than any other country
As coronavirus spreads, U.S. military to withhold some infection data
Pompeo: G7 agrees China spreads 'disinformation' about coronavirus
Pompeo, G-7 foreign ministers spar over 'Wuhan virus'
Military Facing Operational Impacts of Coronavirus
Boeing suspends Washington production, GE Aviation lays off thousands
Navy docks USS Theodore Roosevelt to test crew for COVID-19
Navy postpones Large Scale Exercise 2020 in response to COVID-19
US emerges as virus hotspot as infections, unemployment soar
Trump to receive new coronavirus recommendations this weekend
Coronavirus: Mexicans demand crackdown on Americans crossing the border
Trump looking to put troops near Canadian border amid coronavirus fears
Canada slams US proposal to station troops on border
Venezuela's Maduro charged with drug trafficking by U.S. court
Venezuela's flagship communications satellite out of service and tumbling
EUROPE
EU leaders order up recovery plan for after coronavirus
EU leaders at loggerheads over unified coronavirus response
Eurozone given two weeks to find virus response
Russian Patrol Planes Are Probing NATO's Radar Gaps
Coronavirus capital by capital: How are Europeans coping with shutdown?
Germany, Switzerland help France deal with COVID-19 patients
Kosovo PM becomes 1st world leader ousted over coronavirus response
Coronavirus has put a stop to Europe's Schengen open border policy
Coronavirus delays Russian vote on Putin staying in power
Greece celebrates independence day amid rising tensions with Turkey
Germany: IS sympathizer jailed 10 years over poisoning plan
Norway extradites jihadist preacher Mullah Krekar to Italy
Russia Halts War Games on NATO Borders to Fight Coronavirus
US set to upgrade controversial nukes stationed in Germany
UK navy shadows Russian warships after 'high levels of activity'
MIDDLE EAST / AFRICA
Turkish forces 'neutralize' Kurdish fighters in Syria after 2 troops killed
US forces return Qayyara air base to Iraqi control, withdraw From Mosul area
Iraqi military says 2 rockets hit Baghdad's Green Zone
US puts NEW sanctions on Iran, despite calls for relief amid virus outbreak
Former FBI agent Robert Levinson dies in Iranian jail, according to family
UN urges immediate truce in five-year conflict in Yemen
U.S. cuts humanitarian aid to Yemen
Israel election: Netanyahu rival Gantz 'agrees emergency unity government'
Jamal Khashoggi: Turkey charges 20 Saudis over journalist's murder
Number of coronavirus cases rising quickly across Africa
Egypt expels Guardian reporter for challenging coronavirus count
Cameroon rebels declare coronavirus ceasefire
Chad's 'invincible' army reels from jihadist blow
Libya battles escalate as coronavirus arrives in country
EU launches new Libya arms embargo mission in Mediterranean
Boko Haram kills almost 100 soldiers in a seven-hour attack in Chad
Does Turkey have the will to take on jihadis in Idlib
ASIA
Tokyo Games delayed to 2021, easing athletes' angst
China to temporarily bar entry of foreigners to stop spread of coronavirus
Xi Jinping urges 'stronger int'l cooperation' and quick action to fight coronavirus
China in coronavirus propaganda push as US ties worsen
US warship sails through Taiwan Strait amid tensions with China
Gunmen attack Sikh temple in Afghanistan, killing 25 worshippers
Chinese warplanes to get new coatings to make them harder to detect
U.N. mission in Afghanistan urges halt to attacks on civilians
US-Taliban deal raises hopes for Afghan prisoners
Afghanistan to release up to 10,000 prisoners to slow coronavirus spread
Christchurch mosque shooting suspect changes plea to guilty
---
Travel Security

The U.S. Dept. of State Travel Website is the authoritative federal source for information on the security situation at travel destinations worldwide. With tensions rapidly increasing in most regions, readers planning international travel, even to such common destinations as Canada, Mexico or the Caribbean Islands, are strongly encouraged to do a little research on the security situation at your destination well prior to departure.
Active USGOV Travel Notices
---
Active USGOV Travel Advisories
---
Other USGOV Travel Resources
Smart Traveler Enrollment Prog (STEP)
Travelers with Special Considerations
Faith-Based Travel Information
Information for Women Travelers
Driving and Road Safety Abroad
---
The Department of State's Overseas Security Advisory Council (OSAC) provides a variety of resources to enhance the safety and security of the U.S. private sector businesses and organizations operating abroad.
The U.S. Centers for Disease Control and Prevention website is the authoritative federal source for information on current health issues related to specific destinations worldwide. These issues may arise from disease outbreaks, special events or gatherings, natural disasters, or other conditions that may affect travelers' health.
Foreign Sources of Travel Guidance

---

Australia Dept. of Foreign Affairs
---
UK Foreign & Commonwealth Office
---
Start now to make sure you are staying prepared.
Via: threatjournal