From my friend Steven Harris
——————
THE THREAT.
Ok, so its going to be a strong tropical storm and not a hurricane but this is NOT a small storm.  ALL of Florida will be affected by the storm as well as neighboring states. It will still cause massive flooding, knock out power, deny you gasoline and empty the grocery stores of the basics.  Storm will start to effect Florida Thursday and Thursday / Friday it will quickly move from Florida to Georgia to South and North Carolina while its outer bands will effect Alabama, Virginia and other states.  So if you are in the path, its time to prepared.  If you are NOT in the path, its a notice to you TO prepared for the NEXT storm or earthquake that will effect YOU.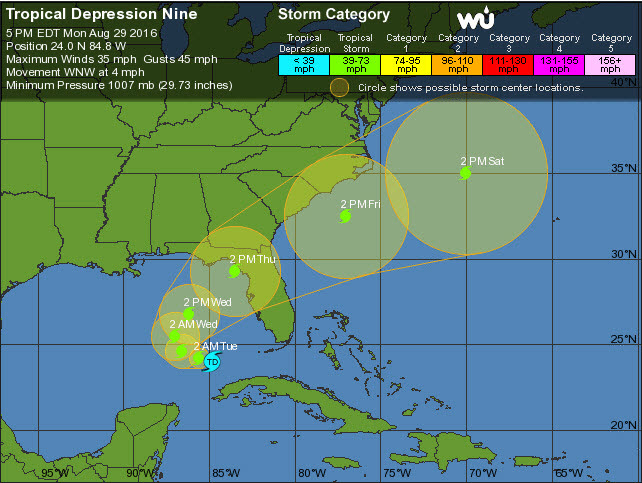 THE PREP- STORE 100 Gallons of Water in 15 Minutes (NO! Bathtub!)
In my Free Family Prep Class, I teach you how to instantly store 100 gallons of DRINKING water, in about 15 minutes WITHOUT your stupid, dirty, chemical laden bath tub and WITHOUT you messing with your hot water heater.  Once you hear my class, you'll SMACK your forehead and say, "Why did I not think of that."
http://www.Steven1234.com  <– My Free Family Prep Classes.
THE PREP- POWER YOUR HOUSE FROM YOUR CAR
In my Free Class on How to Power Your House from Your Car I will SHOW you how to do this in about 5 minutes with a $20 inverter.  I cover what you want and can power in your house and for how long etc…   If you get a BIGGER inverter (800+ Watts) and you leave your car at IDLE then you can power your Refrigerator and Freezer, but you only need to do that for about an hour or two a day.  Who else ever told you this?  PLUS… I have a class on How To Keep Your Refrigerator and Freezer COLD WITH and WITHOUT a Generator.  There are MANY things you can do NOW to keep those cold WITHOUT electricity.  Such simple stuff.  Look for the class (in RED above) with those titles at http://www.Steven1234.com
So if you are in the path of the storm this is a great time to listen to my free prep class because its FULL of stuff that you will STILL be able to get from the home improvement store, the grocery store and hardware store.  I guarantee you that EVERYTHING needed to make my 'Emergency Bread', that IS in the Free Family Prep Class, will BE THERE in the grocery store just waiting for you even if this was a monster storm heading your way with 5 days of warning.  You can make my Emergency Bread in about 30 seconds.  No joke, no kidding. 
MORE THREAT – What FEMA, Red Cross and the Weather Channel are doing to KILL YOU and Hurt You.!!
Worthless FEMA and the Red Cross thinks candles are too 'dangerous' for you and they do not trust you with them and tell you to NOT use them.
Putting modesty aside, because your Family Safety Matters to ME, do you wonder why people RAVE about my teaching? (read the TRUE testimonials on mySteven1234.com Website) This is exactly why.  I show you stuff that NO ONE ever even thought of showing you and its just so darn simple.  The home preparedness stuff that the weather channel, red cross and FEMA and ready dot gov have for you is abysmal in quality and severely lacking.  I teach you the stuff they would never dare teach you.

When you follow FALSE and BAD information you THINK you are prepared and in reality you are NOT prepared and you now have a "FALSE SENSE OF SECURITY" and this is DEADLY.  You ONLY find out what you did wrong and do not have AFTER you really need it and can't get it during or after the storm.  Get my free classes athttp://www.Steven1234.com
Again, I have about 7 REALLY GREAT Free Family Prep Classes on food, water, power, light, generators and more at http://www.Steven1234.com  They are all FREE For You to LISTEN TO RIGHT NOW.   They are hosted in the cloud on Amazon S3 and they can handle millions of people per hour so its ready and waiting for you right now.
Start now to make sure you are staying prepared.
via: Steven1234